FOR IMMEDIATE RELEASE
MELT – The First 120 Days
November 17, 2017 – Hamilton, ON: On December 12th from 10am – 12 noon at one of the TTSAO carrier group facilities a presentation will be made by Ministry Officials on the first 120 days of MELT. The Linamar Corporation, located at 700 Woodlawn Road West in Guelph, will be hosting this free event open to any interested industry stakeholders. Those already confirmed to be in attendance include private and for hire carriers, insurance, government, schools and other industry representatives.
Recently the Ministry of Transportation (MTO) hosted a round table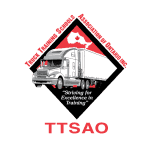 discussion with the TTSAO and Serco to review what has transpired since the implementation of MELT with a focus on Commercial Class A Road Tests. During that meeting the MTO and the TTSAO discussed plans to address the concerns raised about commercial class A testing and the delivery of the road test. The Ministry wanted to release specific details about the actions that have been taken to date and to identify additional recommendations that will improve commercial driver testing services. It is the goal of both parties to work together to address all issues that have been ongoing throughout the province at the drive test facilities.
Some of the recommendations the TTSAO brought forward included the possibility of drive test centers being available for testing on Saturdays, quicker turnaround times for those who failed their first test and designating a TTSAO school member's location to conduct road tests specifically for its members only.
Charlie Charalambous, TTSAO Director of Communications and Public Relations, says, "The TTSAO is very pleased that the Ministry and Serco representatives took the time to host the roundtable discussion. Both parties shared their open and honest feedback on how things are going and I believe that we are looking at some positive changes for everyone involved. We are looking forward to continuing the conversations and sharing the information at our December 12th open General Meeting".
The full membered schools of the Truck Training Schools Association of Ontario are the largest user of Serco in the province of Ontario for commercial AZ licenses. The TTSAO's membership represents the majority of truck training schools in the province. The association has relied on the TTSAO Carrier Group and other industry stakeholders to assist in offering direction and advice to improve road safety in the province.
Those who register will also learn about what the MTO has planned for future engagement with industry stakeholders moving forward. To register please contact ttsao@ttsao.com or 416.623.5461.
For more information, contact:
Charlie Charalambous – Director of Communications and Public Relations, TTSAO – ccharalambous@isbc.ca
-30-
Please follow and like us: