FOR IMMEDIATE RELEASE, December 12, 2017 – Hamilton, ON:
The Truck Training Schools Association of Ontario (TTSAO) is pleased to announce the formation of the TTSAO Insurance Group. Following the successful launch of the TTSAO Carrier Group in 2016 the TTSAO Board of Directors felt that an Insurance Group would add additional value to its membership as the association continues to grow.
The insurance group consists of brokers and insurance company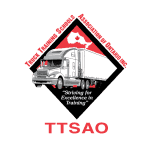 representatives who are associate members of the TTSAO. The TTSAO has always viewed insurance companies and brokers as an extended customer of the TTSAO schools. Following a student's successful completion of a TTSAO course it is very important to carriers to ensure students are insurable so that industry can hire them. The TTSAO Membered Schools certify thousands of students every year and are the number one supplier of entry level graduates collectively to the industry in the Province.
Lisa Arseneau of Staebler Insurance has been appointed by the newly formed group as the chairperson. Arseneau has been in involved in the trucking industry, on the insurance side, since 1987. She played an instrumental role representing insurance companies during the drive for the voluntary apprenticeship program for commercial drivers in Ontario.
Arseneau says, "As an insurance professional, I am very excited to
Chair the newly formed Insurance Group. We have already had great response from the Insurance Industry and our first meeting this past week demonstrated that. Having representation from all of the major truck insurers is imperative for our group to be effective. We look forward to working with the TTSAO on lobbying efforts, instructor certification/recognition and insurance driver eligibility".
For more information visit www.ttsao.com or contact:
Charlie Charalambous – Director of Communications and Public Relations, TTSAO – ccharalambous@isbc.ca or (905) 699 – 8837
Lisa Arseneau – Commercial Producer – Staebler Insurance – larseneau@staebler.com or (519) 743-5882
-30-
Please follow and like us: