Happy Independence Day to our American friends in the United States as you enjoy this 4th of July holiday. The United States has been celebrating independence since 1776 and this is a major holiday of the summer. For those of you that are new to the trucking industry you may not think that a holiday like the 4th of July can affect a Canadian driver delivering loads down in the United States but it can be one of the best times to travel south of the border.
Like everything in life there is good and bad in everything and trucking on 4th of July is no different. Let's look at the good part first. When it comes to passionate patriotism you won't find it any stronger than in the United States. Known as one of the strongest and largest countries in the World makes it a goal to live in for many people. People born in the United States are very proud to be American and display it proudly. This makes it a great place to drive because you will feel that patriotism as you drive down the road.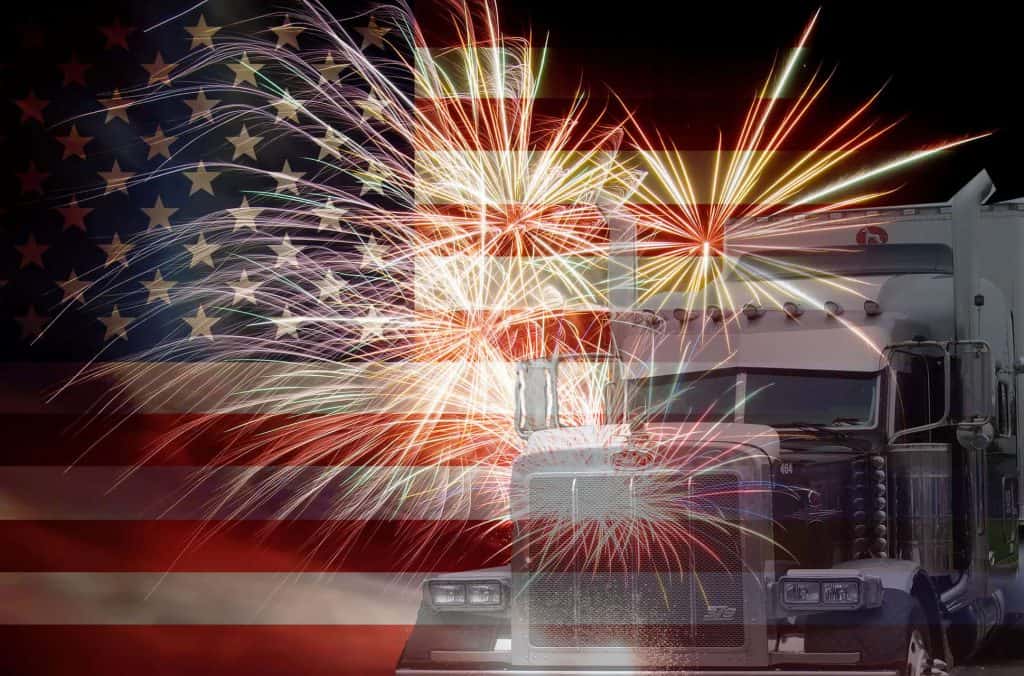 I have always enjoyed driving on the back roads as much as possible when time allows. It gives you a different perspective into the way people live and I find it much more relaxing than always being on the big highway network. That is where you will see the pride of the country on those little back roads and small towns. Roll through Small Town, U.S.A. and you will see homes and businesses with flags out front waving proudly, you will find parades going on celebrating the day, and if lucky you will stumble onto one of those great State Fairs that are held throughout the nation. The 4th of July is a big deal and celebrated proudly with lots of celebrations and entertainment. Even for those of us not from the United States you can feel the pride of the country. When you're parked at night don't forget to look up as there will be many firework displays going on in most areas.
I found over my years on the road when you are in the United States the area you are in may dictate how much patriotism is shown. Everyone is patriotic but certain states seem to enhance it even more. I found states like Pennsylvania, Massachusetts, Ohio, Vermont, and New Hampshire always seem to really show their Pride as well as many of the southern states such Kentucky, Texas, and the Carolina s. Maybe it was just the areas I ran the most so I noticed it more. No matter where you travel it can be a very joyous time of year.
So what do you have to look out for when operating in the States over the fourth of July. The first thing is to check your delivery times. Many companies will be closed for the day and possibly longer due to the holiday so make sure you know when receivers will be open. Driving through an area as much as it can be fun can be a challenge. Parades will be happening in almost every town and road closures can make your trip a lengthy one. If you are trying to make miles on the 4th of July stay to the Interstate. The last safety tip is to beware of fireworks. While they are certainly beautiful to look at while in the sky they can be very dangerous when handled incorrectly. Fireworks are readily available to many and some may use them dangerously without thinking about their surroundings. The last thing you need is a truck fire because of firework debris from someone that doesn't know what they are doing.
Be careful out there.
Driving through the Country during holidays and special times can be a great way to get a feel for a place and enjoy festivities that you may not get to see otherwise. Enjoy the benefits of being a professional driver and being able to travel and see places most people can't, so enjoy it. Happy 4th of July!
Looking for a carrier that can offer you a career seeing the Country? Click the banner below to see a list of carriers that offer driving opportunities.

About the Author
Bruce Outridge has been in the transportation industry for over 30 years. He is an author of the books Driven to Drive and Running By The Mile, and host of The Lead Pedal Podcast. TTSAO also known as the Truck Training Schools Association of Ontario has certified member schools in the truck training vocation ensuring quality entry level drivers enter the transportation industry. To learn more about the TTSAO or to find a certified school in your area visit www.ttsao.com