The TTSAO (Truck Training Schools Association of Ontario) had their 4th annual conference at the end of February with a lot of good information shared with attendees. There were new awards, many great discussions around truck training and how schools or carriers can work closely together. Check out the conference recap here.
A panel discussion led by Geoff Topping of Challenger Motor Freight and consisting on Leanne Quail of Paul Quail Transport, Matt Richardson of Kim Richardson Transportation Specialists Inc, Garth Pitzel of Bison Transport, and Philip Fletcher of Commercial Heavy Equipment Training talked about carrier and school relationships and how it affects students coming into the industry. One of the areas that I thought was interesting about the panel discussion was the fact that relationships between carrier, school, and student were extremely important in the success of a student becoming a professional driver.
Schools are working closely with carriers and developing strong relationships because they understand that carriers are playing a major part in truck training even if they don't provide it. I have always said to new drivers that their first point of contact should be with a carrier of choice to find out what type of training they require and if they work with certain schools. This allows a student to get training knowing they are able to be hired once they graduate from the school.

Good certified schools also understand that truck training is more than just passing a test and that training is a foundation for your whole career. Having that relationship with a carrier allows a school to prepare that student for the carrier style of operation so the student is successful at the end of the training.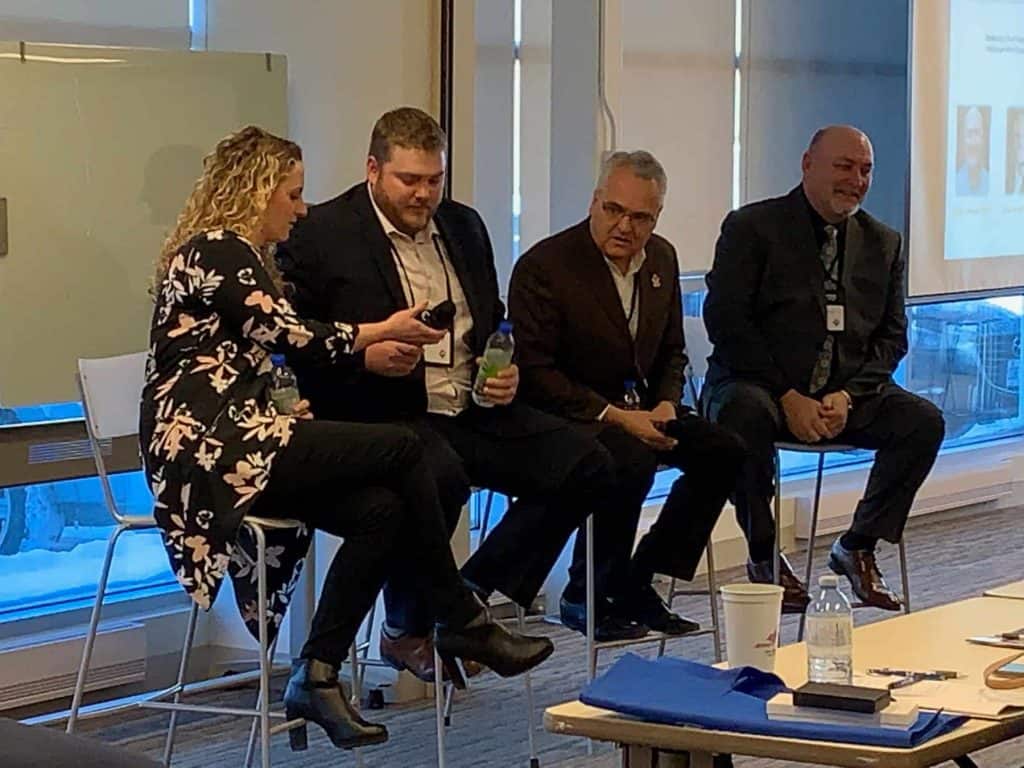 Carriers are investing in a student when they sign on and much of their orientation is focused on competency and skills training when a new driver starts with the fleet. The carrier's job is to groom that driver once they have the basic skills and working with certain schools is offering that comfort that a new driver has been trained to certain standards. Although many carriers have formal mentor programs they know that mentorship and training happens best when it is a natural fit between the new driver and trainer. Many of us can remember our mentor or trainer when we got started hopefully as good memories. Carriers realize this and are focusing on soft skills and the customer service side of the improving a driver. Trust is a main factor in a relationship between a school, student, and carrier. Careers, safety, and the future depend on it.

As a new student or driver it is important for you to spend time building that relationship with a school and a carrier. Go to events and meet the recruiters. Call carriers and find out which school they work with in your area and why. Talk to the schools about their training programs and which carriers they work with to evaluate what job types are available. Start that relationship before you even choose a training provider and it will help streamline the process of becoming a truck driver. Not only will that save you time, resources, and money, but will also fast track you into a quality carrier right from the start. If you need help getting started then www.ttsao.com is a good place to start.
About the Author
Bruce Outridge has been in the transportation industry for over 30 years. He is an author of the books Driven to Drive and Running By The Mile, and host of The Lead Pedal Podcast for Truck Drivers. TTSAO also known as the Truck Training Schools Association of Ontario has certified member schools in the truck training vocation ensuring quality entry level drivers enter the transportation industry. To learn more about the TTSAO or to find a certified school in your area visit www.ttsao.com