As we sit between Canada's Birthday of July 1st and the United States Independence happening on July 4th I felt it was similar to crossing the border in a truck. When talking to drivers at recruiting events or schools many are afraid of the border. They prefer driving through Canada only and may not want to experience the border due to the many stories that they hear from other drivers. It doesn't matter whether that driver is Canadian based or U.S based the feelings are the same. Unfortunately what those drivers don't realize is that those that have trouble at the border often weren't as prepared as they should have been.
I remember my early experience at the border. I was very early in my career as a driver, in fact I had only been across the border in a truck maybe two times before. Just like many new drivers I jumped into truck ownership very early and this was the first time in my own truck taking a load of furniture across the border. I was a partner in the truck with my friend who had taught me to drive and we had taken a couple of loads across the border in his Father's truck who was also an owner operator in the furniture industry.
I still remember that night. We were moving someone from Ontario Canada to Northern New York State. We had an old cabover Ford truck that we had refurbished and reworked for about $10,000 which is big money to someone only 20 years old. My partner Andre was the one who handled the paperwork for the border and we had decided to cross the border late at night as we were running as a team. We arrived at the border and went through the normal process of submitting the paperwork and sitting in the waiting room at the border.
I remember the room being cold, dark and a place that you had a feeling you could be left there indefinitely if your paperwork didn't clear properly. After about an hour waiting in this little room with drivers sleeping and looking very disappointed with the simple fact of being there we heard our names called. Happy to be leaving we jumped to the counter to get our release form. Instead of our release form we were told to back our trailer into the dock and we returned to the cold dark room. Four hours later we were called to repack the furniture they had torn down which took us another hour to do. In total we were there for six hours with no explanation as to why such a long delay.
I would have not been blamed if I never wanted to cross the border again. Instead I spent countless years crossing the border and for the most part trouble free. Oh there has been a few delays due to traffic, there was the time there was a trucker strike, and of course there are a few times when the load wasn't correctly documented by the shipper. For the most part it has been a good experience. Out of my 25 year career 10 of those were operating south of the border and I am glad that I wasn't scared off by that early experience.
If I can offer some advice for those of you currently crossing the border or thinking about going that route is to be prepared. Over the years I have found having your paperwork in order, knowing how your truck is loaded, and being professional when presenting paperwork or speaking with border personnel is the best defence in reducing delays at the border.
Speaking of the border I would like to take this time to wish our American friends Happy Independence Day, may it be a safe and happy day.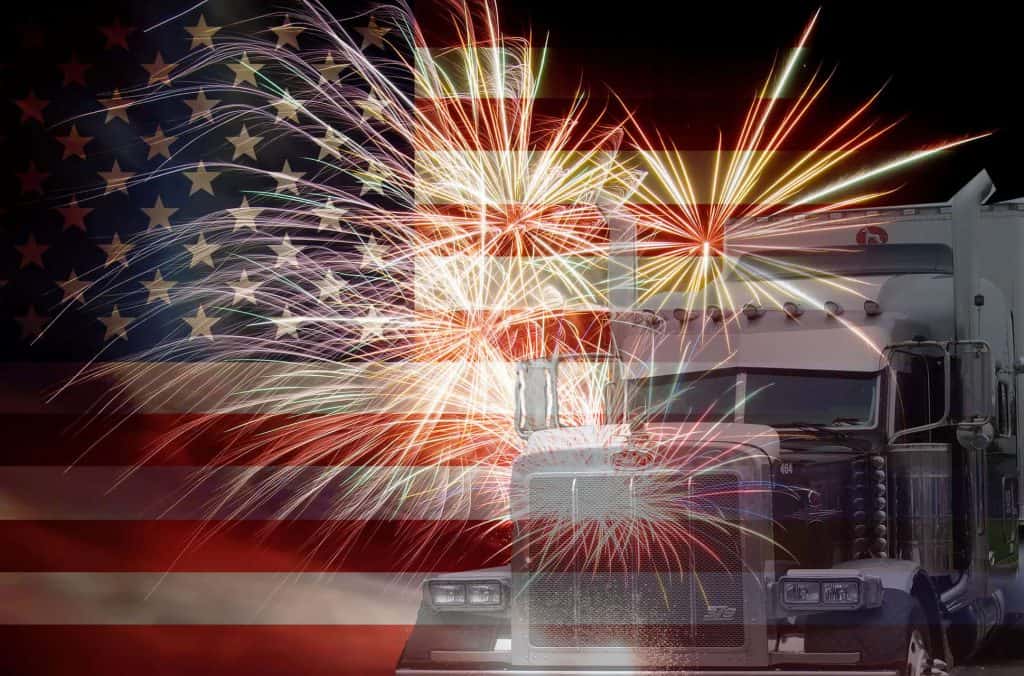 About the Author
Bruce Outridge has been in the transportation industry for over 30 years. He is an author of the books Driven to Drive and Running By The Mile, and host of The Lead Pedal Podcast. TTSAO also known as the Truck Training Schools Association of Ontario has certified member schools in the truck training vocation ensuring quality entry level drivers enter the transportation industry. To learn more about the TTSAO or to find a certified school in your area visit www.ttsao.com