As a commercial driver you will be required to be retested for renewal of your licence on a regular basis based on your age and the licence classes you have registered. This is usually accompanied by a medical and if you are not successful in passing the tests required your licence will be downgraded from the commercial class to the basic non-commercial driver's licence. This can be a stressful time if you haven't taken the time to prepare properly especially if your licence is required for your job.
I recently had to renew my commercial licence and prepared as I have for the last 35 years even when I was driving. I bought the books, reread each chapter, and prepared mentally for the day. Leave lots of time, clear your head, and be focused is what I would get in my mind each year. Many laugh when I say I buy the books each time when I teach most of the elements in those books but it has been part of my routine for a long time and it is how I prepare each time. The reason is more for terminology than the process. There are many phrases and names used on the tests and in the book that we don't use in the industry on a regular basis. If you use the slang of the industry all the time you may not understand the terminology on the test. With Mandatory Entry Level Testing being implemented since my last testing I thought they may have added some information about the program so buying the books seemed like a good idea.
I felt comfortable going in to the Drive Test Centre to renew the licence. I had left a whole afternoon for the test so that I wasn't in a hurry and could take my time without thinking I should be somewhere else. My first thought when going to these testing centres is how long will I be there. You take a ticket and wait and in some centres it may take all afternoon just to get in line for the test.
I was pleasantly surprised to find the centre not overly busy and staff organized. I was called right away to begin the process and the staff was helpful and happy. I completed the required vision test and then was told to enter the testing room and take computer number four. Now this is where things changed for me. I have my tractor trailer licence, my coach licence, and my air brake licence so that is three tests that I have to write. The last time I was in to renew my licences I received a two page paper test for each licence class and didn't realize they had changed over to computers for the testing.
Using the computers wasn't a problem, but any unexpected change can throw a person off. The rules are the same as you are allowed a certain number of questions wrong in order to pass as they were in the past. The questions weren't overly tough but I find you really had to pay attention to what they were asking. The multiple choice questions are designed to throw you off and I did get one wrong because the number I saw was for something else as I didn't read the question close enough. The questions are delivered randomly and are the same over multiple tests of similar classes. When I thought I was answering questions about the coach I had answered that same question previously in the tractor trailer test. You never really knew which test you were on, but other than that the process was easy enough.
If you are wondering how I did I can tell you I passed all the tests. If I can offer a piece of advice for anyone taking the tests is to have patience and take your time focusing on each question. Once you have selected an answer you can't go back and correct it. Patience and focus are the key!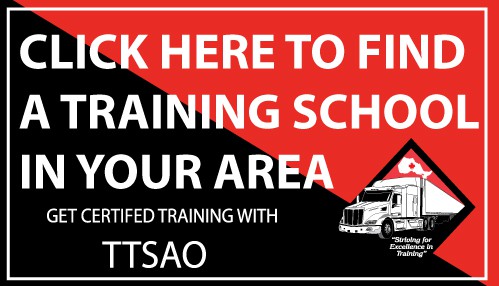 About the Author
Bruce Outridge has been in the transportation industry for over 30 years. He is the author of the books Driven to Drive, Running By The Mile, and host of The Lead Pedal Podcast. TTSAO also known as the Truck Training Schools Association of Ontario has certified member schools in the truck training vocation ensuring quality entry level drivers enter the transportation industry. To learn more about the TTSAO or to find a certified school in your area visit www.ttsao.com