"I want to start a trucking school." This is a statement heard recently at a truck show from a driver that was getting tired of the road and wanted to slow down in his career. He had some people interested in his local area and thought it may be a good way to continue his trucking career and be home more. "I can just buy a truck, get some customers, and I would be all set",he said. "How hard can it be?"
As our population grows older and drivers begin to look for ways to retire while keeping income coming in opportunities such as opening a small school or doing training on the side look more appealing. In fact we have many former drivers in the industry that have gone on to open consulting businesses, become truck driver trainers, or other home stationed positions in the industry. Anyone running their own trucking school can tell you it's not as easy as it looks. A driver may have the experience of the road but that is just one piece of the puzzle to a successful school. Many drivers find out that their experience in the truck is not as easy to translate to students when standing in front of them in class.
What does it take to start your own truck driver training school?
You've decided that you want to start your own school, so what do you need to do? The first thing you want to look at before certifications, trucks, or anything else required is to decide on the type of school you will open. Will it be a fly by night school that is focused on a quick buck and the shortest courses possible? Will it be a proper certified school that operates with integrity and class? Both options are possible but only one is suggested. If you're getting into operating a truck driving school for a quick buck then keep looking at business opportunities because a school is not for you.
Assuming you were to open a certified facility with proper integrity and courses then there are a number of things you have to do before you can even open the doors. Having all the documentation and information required is the first step in the process. This step can take months or years as you develop course material, attain insurance and other requirements for the training centre. Once you have that set up you have to register your course information with the Ministry of Training, Colleges and Universities to be registered as a Private Career College. After you have got those steps completed you may then want to apply for memberships with organizations such as the Truck Training School Association of Ontario. Marketing and other processes for a successful business begin at this point and have nothing to do with truck driving but will take time, money, and skills most drivers don't have.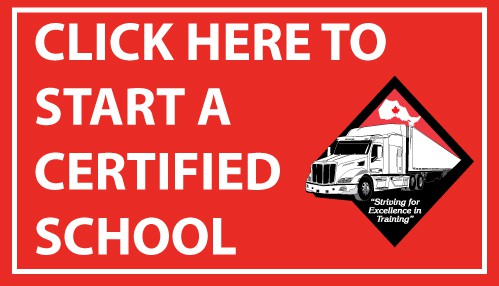 You can get an official list of requirements on the TTSAO website-click here!
I can tell you from experience as a trainer in the industry that I have seen many drivers have trouble transitioning from life on the road to standing in front of a class of students. It can be done but it isn't as easy as people think. If you are thinking of opening a training facility please do it with integrity and safety in mind. We have enough crazy drivers on the road and we don't need a facility putting more bad drivers onto our highways. Good luck and make sure you do the proper homework for a successful school.
About the Author
Bruce Outridge has been in the transportation industry for over 30 years. He is an author of the books Driven to Drive and Running By The Mile, and host of The Lead Pedal Podcast. TTSAO also known as the Truck Training Schools Association of Ontario has certified member schools in the truck training vocation ensuring quality entry level drivers enter the transportation industry. To learn more about the TTSAO or to find a certified school in your area visit www.ttsao.com