As we come to the end of another year and decade we have to take a look at the truck driver training industry and hope we are improving on lessons learned throughout the year. Our industry is changing rapidly with a mix of better and worse. Training standards, regulations, and industry employment all seem to be mixing together causing our industry to re-evaluate where it is going and where we've come from. So where are we in this mix?
From a training standpoint things are improving. Entry Level Training was implemented a couple years ago and governing bodies continue to tweak the regulations and improve the testing standards within the Province and across the Country. The Truck Training Schools Association of Ontario (TTSAO) was a leader in helping form the new training standards with the Ministry of Transportation and continues to work closely with them to improve the training aspects of our industry.
Truck driver training instructors began to be scrutinized at the end of 2018 and became a major focus for the TTSAO in 2019. They increased the profile of the instructor by having the Instructor of the Year award presented to industry veteran Joe Teixeira of Rosedale Transport and will now be an annual competition at the TTSAO Conferences. With over three decades of experience of the first winner it makes competition tough for the future, but a good benchmark to have for top instructors.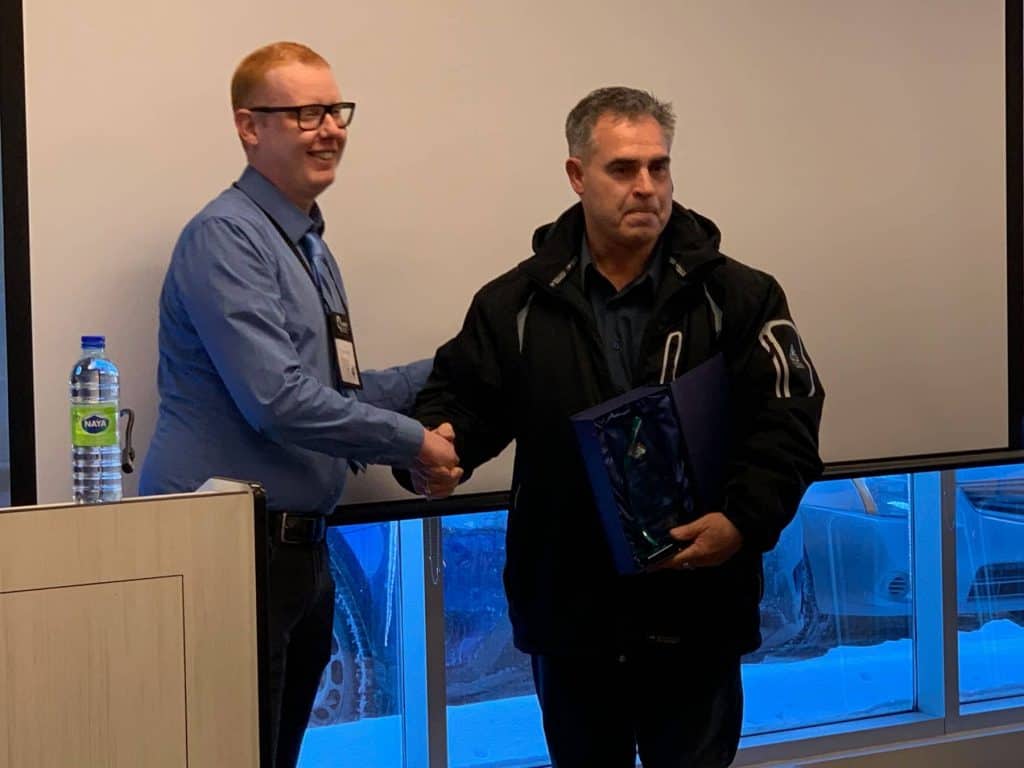 Qualifications for instructors were a main focus for the association in 2019 and continues to be talked about with industry partners to find a common certification for all instructors in the industry. So the training aspect of the industry has been improving well and looks good for the near future.
Where we have had problems is in the employment side of the industry. 2019 had some large carriers go out of business leaving drivers stranded in some cases on the road. Insurance renewals for carriers has tightened up and some carriers are having trouble finding insurance premiums to operate. Insurance providers are working on solutions to improve carrier insurability and also enhance driver employment for younger drivers.
The driver shortage continues with technology being a strong focus for filling the driver gap. Foreign workers have also resurfaced over the year as a solution for bringing more people into the industry. The immigration issues for all of North America has caused this issue to be a troublesome issue to figure out.
Other topics that have surfaced are human trafficking and cargo theft which are rising year after year. The TTSAO is planning on implementing these topics into their training programs to help in the fight against these crimes from an awareness standpoint.
All in all the TTSAO is on the forefront for many of these important issues and continues to work to make the truck driver training industry a better place. On behalf of the TTSAO we would like to wish you and your families a happy and safe Christmas.
Happy Holidays
About the Author
Bruce Outridge has been in the transportation industry for over 30 years. He is an author of the books Driven to Drive and Running By The Mile, and host of The Lead Pedal Podcast. TTSAO also known as the Truck Training Schools Association of Ontario has certified member schools in the truck training vocation ensuring quality entry level drivers enter the transportation industry. To learn more about the TTSAO or to find a certified school in your area visit www.ttsao.com