Ontario Truck Training Academy has signed on as a School Sponsor for the 5th Annual TTSAO Conference happening on February 26-27, 2020. Thank you Ontario Truck Training Academy for your continued support of our events.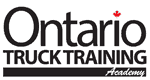 At OTTA our instructors meet the highest standards of professionalism. An average of 20 years in the Transportation Industry is required to be an Instructor at our training Centre.
We are a certified member of the Truck Training Schools Association of Ontario and offer certified AZ training for the Professional Truck Driver Institute, which must meet specific terms and conditions to ensure that all individuals receive training that conforms to today's standards and safety requirements.

Over the years we have developed an excellent reputation with trucking companies and continue to supply them with safe, knowledgeable entry-level candidates. Learn more about Ontario Truck Training Academy here.