Covid has changed the way many of us do business. The days of showing up at meetings and hoping to give out a business card are in the past. In fact when I hand a business card to young people now they usually just laugh and say, "Do you still use those things?" The other side of the coin is being so automated in your business that you feel as though there isn't a real person behind the scenes. Finding that balance can be tricky and that is why social media is so important these days. Social media has been around for a while after all Facebook was created in 2004 but to this day many are still not using it effectively.
Social media is extremely important for businesses like training facilities. After all if I have a bank you most likely don't care about my social media presence as much as access and security of your funds. With a training facility courses may seem the same, but other variables like instructor personalities, equipment available, and course location may all play a big part in the decision someone makes before choosing a facility. People choosing facilities often visit a website but then visit the social media pages to get a feel for the school and the type of school they run. Most courses will take you to the same finishing point but there are several ways of getting there.
Even more important due to recent events like Humboldt and the Colorado issue where a lack of training led to a number of horrific crashes it is even more important to make sure you know the training facility and the type of work that they do. Social media isn't about fun and games as much as it is about brand building.
With so many social media platforms it can be daunting to try and figure out which ones to use and what to put on them. Do I post funny pictures of that cat or professional pictures of the team? Do I take a picture of every person that graduates a course or take pictures of my equipment? These are all normal questions that people have to think about when working with social media. This is the benefit of being part of an association like TTSAO (Truck Training Schools Association of Ontario) where they provide help and assistance for their members. In their upcoming conference that was recently postponed we were going to talk about that very topic. Don't worry it will be back once Covid Regulations are lifted but in the mean time you can still get a sneak peak and get started on improving your social media presence.
REGISTER FOR THE FREE WEBINAR HERE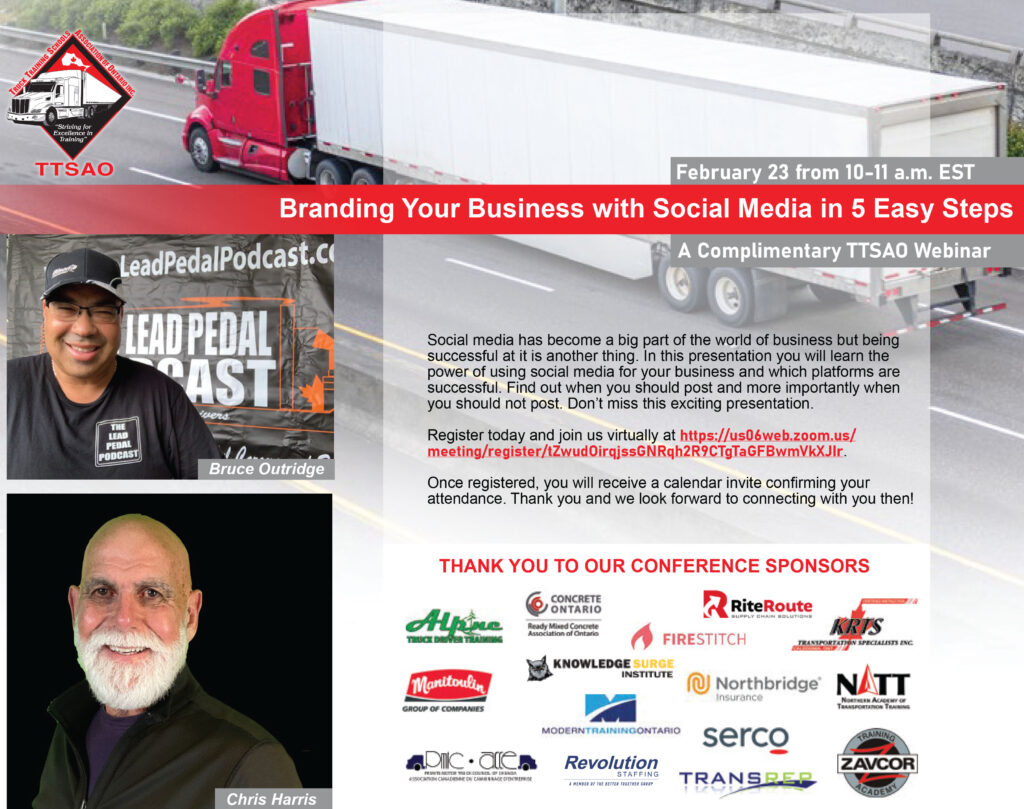 On February 23rd from 10AM to 11AM the TTSAO Conference committee will be holding a free webinar with a short presentation on social media from media experts Bruce Outridge and Chris Harris. Both have extensive knowledge on social media, podcasts, radio, and production in general. You can register for free here! Join the webinar and you can learn more about the conference on our conference page.
About the Author
Bruce Outridge is a veteran in the transportation industry with over 40 years in the industry in a variety of roles from driver to fleet supervisor and more. Today he is a media specialist in the industry producing a number of programs for the trucking industry such as his trucking podcast The Lead Pedal Podcast for Truck Drivers at www.theleadpedalpodcast.com or his radio station Lead Pedal Radio at www.leadpedalradio.com
Disclaimer: This article is written and based on the opinion of the author and is for general information only