We are happy to announce that  Esther Goetsch from Truckers Against Trafficking will be part of our February 23rd webinar offering an update on programs with the organization. Trucker Against Trafficking better known as TAT has been fundamental in helping in the fight against human trafficking by educating truckers and other road users on the signs to look out for when they come across possible victims in the field. You can learn more about TAT and even certify yourself or your organization at https://truckersagainsttrafficking.org
On February 23rd from 10AM to 11AM the TTSAO Conference committee will be holding a free webinar with a short presentation on social media from media experts Bruce Outridge and Chris Harris. Both have extensive knowledge on social media, podcasts, radio, and production in general. You can register for free here! Join the webinar and you can learn more about the conference on our conference page.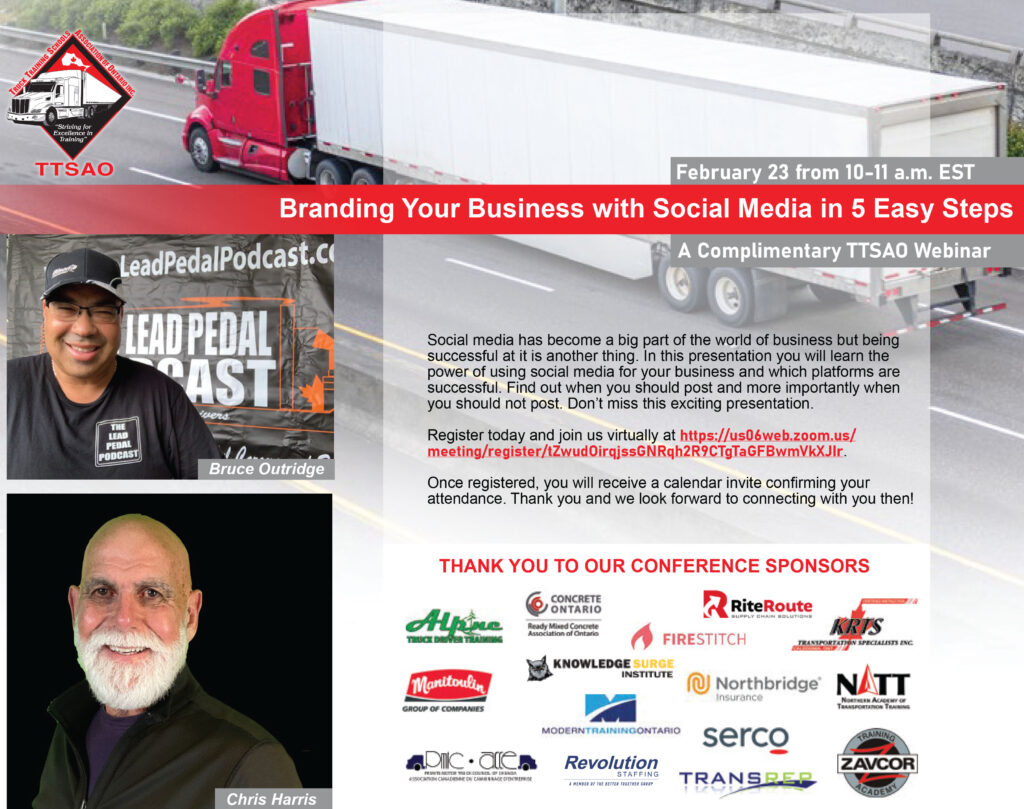 About the TTSAO

Founded in 1993, the Truck Training Schools Association of Ontario (TTSAO) is the largest association
representing commercial truck driver training programs in Ontario. TTSAO members represent approximately
50 training campuses and collectively certify over 5,000 commercial drivers annually. The TTSAO Carrier
Group employs 10's of 1,000's of professional drivers in Ontario and the TTSAO Insurance Group companies
and brokers insures 100's of schools and trucking companies. The TTSAO's mission is to support the
commercial driver training industry through advocacy, networking, education and certification programs to help
members produce the highest quality of professional drivers possible. To learn more, visit www.ttsao.com.