You've made the plunge and started a training facility. You have your courses registered and ready to go. You have your instructor, truck with your logo on it, and a flashy new business card. Now what? If you're like most of us you expect the phone to ring off the hook, but nothing, crickets! If you're like me when I started my business I actually kept checking under the desk to ensure the phone was still plugged into the wall. Don't worry you will get to the other side of the equation where the phone won't stop ringing but it may take some work first.
Social Platforms: You decide to start using social media but aren't sure what or how to choose the right platform and decide to use those personal pages you've set up that you haven't really been active on. You ask your teenage child what you should be adding to that Instagram account and they tell you to create a dance video. After thinking to yourself, "I don't dance!" You wonder which song would get your name out there the best.
Social Content: You realize you have a profile on Facebook with twenty-three followers (all family) that had some activity and seemed to have a spike in views last August. You then realize that spike was in relation to the picture of Uncle Angelo falling in the pool fully clothed with a Pina Colada and it was shared by all twenty three family members. Should you post that again?
Social Activity: A friend down the street said he tried to find your business online and had trouble but finally found it on a back page of Google. You decide to do a search of your school name and because you did enter your school name in the few social media platforms you came up as your training facility name on Google thanks to the website your brother's kid put together. You also come up as "The Mad Hatter" on Instagram and "Frozen and Lonely" on Facebook. That's what happens when you choose profile names based on the movie your are currently watching.
If you are making these types of mistakes realize you are not alone. Many of us have made these same mistakes in our businesses starting out and some continue to do so. Social media was not as important as it is today for businesses but it is now crucial to be in it successfully. How do you fix it and make it better? Social media is a mix of complex parts that are constantly moving and changing all the time. The first place to start is by choosing the platforms that your customers may be on. Many platforms will give statistics on demographics that can help you decide if it is a good platform for you. Second ensure your name or company name is the same on each platform. This will help people find you wherever you are. The next area is content and what to post can get complex so I would suggest you join us for an upcoming webinar on branding your business with social media where we will offering tips on how to create content and share it on your channels. You can register for the FREE webinar on February 23rd from 10:00AM -11:00AM. Start your 2022 off to a great start by getting your business online and active.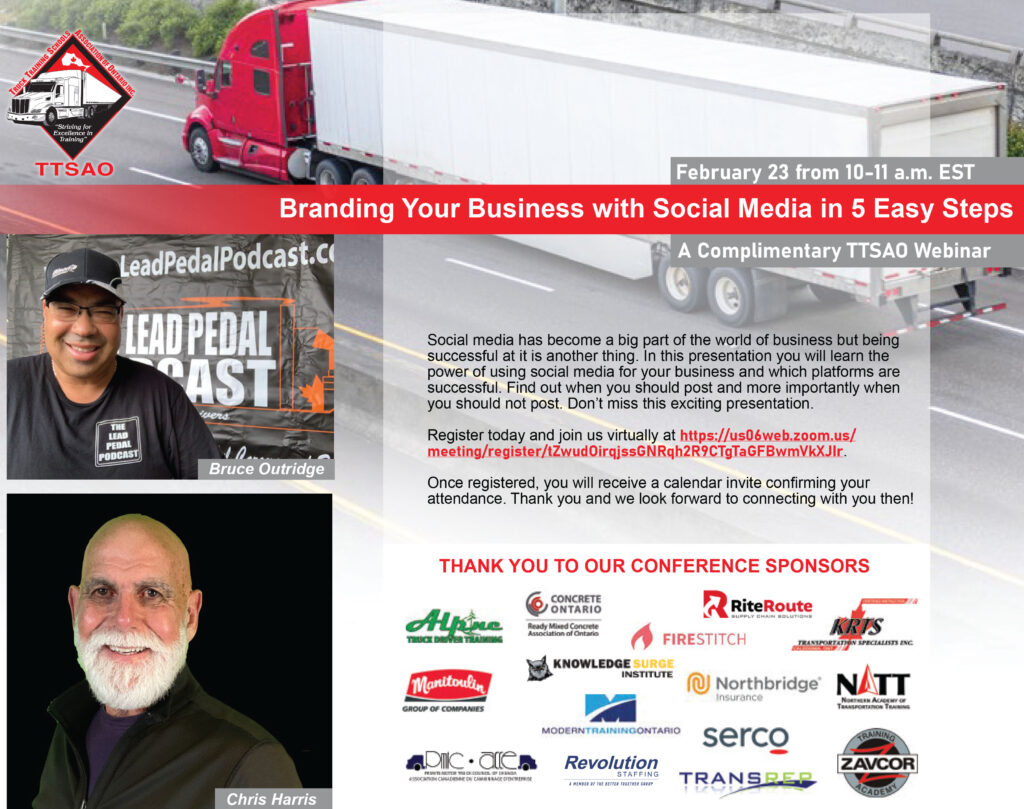 Special Guest Esther Goetsch will be on hand to offering a special presentation on Truckers Against Trafficking.
About the Author
Bruce Outridge is a veteran in the transportation industry with over 40 years in the industry in a variety of roles from driver to fleet supervisor and more. Today he is a media specialist in the industry producing a number of programs for the trucking industry such as his trucking podcast The Lead Pedal Podcast for Truck Drivers at www.theleadpedalpodcast.com or his radio station Lead Pedal Radio at www.leadpedalradio.com
Disclaimer: This article is written and based on the opinion of the author and is for general information only