Before the pandemic mentorship was a hot topic in transportation. Carriers were creating mentorship programs and drivers were being paired up like a team sport. Then the pandemic hit and no one was allowed within six feet of another person and mentor programs seemed to fizzle out into nothing. As we ease out of the pandemic do you still think mentorship programs are important? Is it time to revise your current program or dust off the cover and get it back in form?
I am one of those people that believe in mentorship programs but am not sure they work so well in a forced pairing situation. I have had a couple of great mentors in my life and found they have all happened naturally. You start a new job and meet a couple people, someone decides to show you around and you become friends. Over time you start becoming a team and one will become the mentor either by choice or through knowledge. However it starts it is a gradual situation that has to happen on it's own. This is my opinion and experience.
Where I have seen mentorships go wrong is when they force people to work together and the people don't get along. Often people mistake mentorship for training. If you assign Jim to show Steve around and answer any questions that's training. If Steve goes up to Jim on his own and asks for advice and uses it that's mentorship. Below is the dictionary version of Mentorship.
men·tor·ship
/ˈmentôrSHip,ˈmentərSHip/
noun
noun: mentorship; plural noun: mentorships; noun: mentor-ship; plural noun: mentor-ships
the guidance provided by a mentor, especially an experienced person in a company or educational institution."he is revered by his employees for his mentorship and problem-solving qualities"

a period of time during which a person receives guidance from a mentor."a two-year mentorship with an entrepreneur in a tech start-u
If you had a mentorship program in the past did it work? Did it happen naturally? Not all experienced employees make good mentors or want to be mentors. That's why having it happen naturally makes the most sense. The person wanting to be mentored has either asked for it or the bond happened on it's own.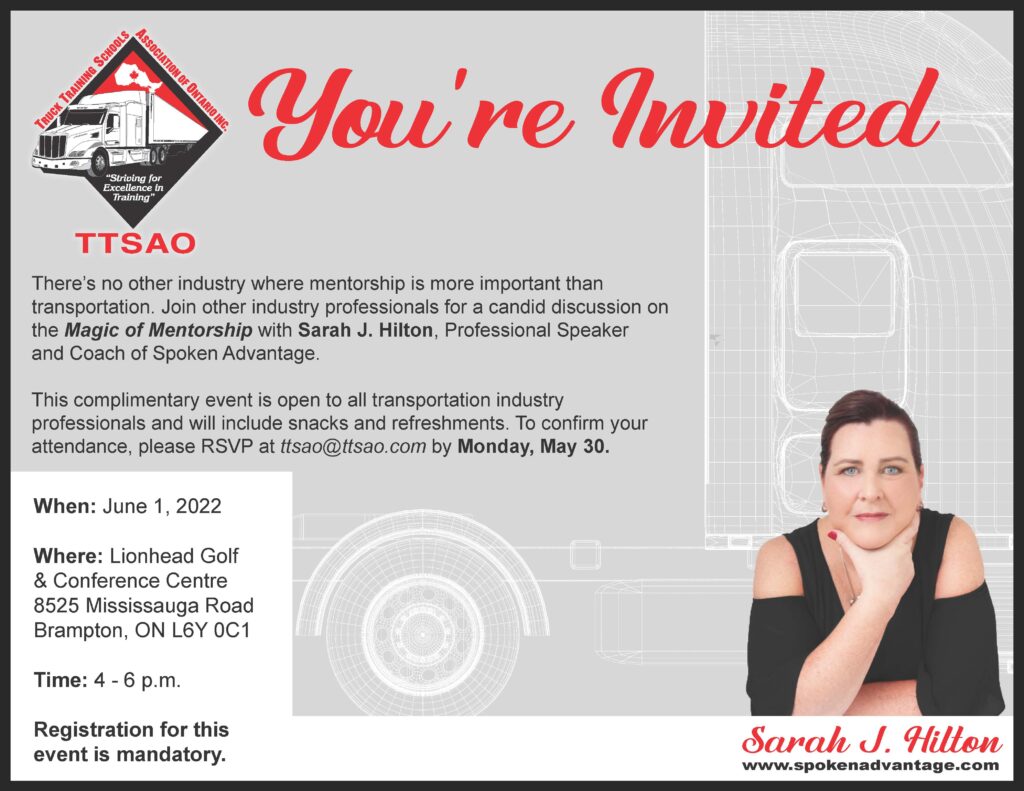 If you are looking to kickstart your mentorship program or redesign it for the best then register for the upcoming event on June 1st with Sarah J Hilton who will be talking about the Magic of Mentorship and how you can get the best out of your mentorship program. It will be part of the TTSAO Conference Committee Outreach meeting on Wednesday June 1st at Lionhead Golf & Conference Centre in Brampton from 4 pm – 6pm. You can register for this event at ttsao@ttsao.com and learn more about the conference on July 26th-27th 2022. The meeting is free but registration is required . See you there!
About the Author
Bruce Outridge is a veteran in the transportation industry with over 40 years in the industry in a variety of roles from driver to fleet supervisor and more. Today he is a media specialist in the industry producing a number of programs for the trucking industry such as his trucking podcast The Lead Pedal Podcast for Truck Drivers at www.theleadpedalpodcast.com or his radio station Lead Pedal Radio at www.leadpedalradio.com
Disclaimer: This article is written and based on the opinion of the author and is for general information only