We've come through the pandemic to a point and many things have changed in our industry and many others. The driver shortage seems worse and opportunity has risen for many schools due to funding openings to get into the training industry as drivers try to find other sources of income from driving over the road. There have been a record number of schools open up across Canada and some of them have even been found to be fraudulent in their activities. With increased competition, difference of demand for certain services, and increased funding all create a perfect time to look at your training business and make some changes if required. Why is this the time?
As we know much of the public still thinks of work in the terms of seasons. While in the summer months people are in vacation mode even if they are still at work. Things are more relaxed in most settings and many people thinking of training may decide to wait and start training in September so they can enjoy the rest of the summer. Summer is a slow time for many and that's why it makes perfect time for a company rebrand.
How do you start that process if you are thinking of changing things up? The first thing you need to do is create a list of things that need to be changed. You may need to dig into your data to see where your students have come from in the past, what courses are in demand now, and where you want to take your training facility for the future. Once you have that data you can put a plan in place.
As you know the TTSAO had to delay their annual conference this year due to pandemic regulations and this is perfect for rebranding. Why? With all the new data that you just accumulated you can now attend the event and find that information through the presenters at the event. Wondering what areas of the industry will be covered at the TTSAO 6TH Annual Conference?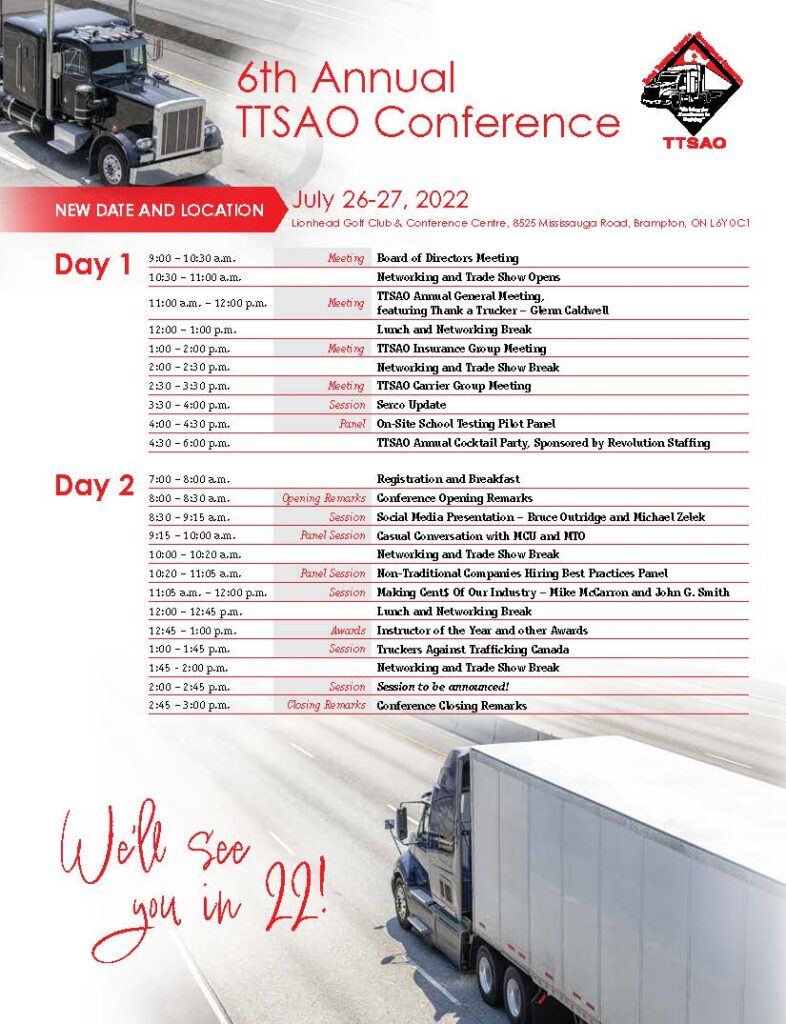 You may want to think about joining the TTSAO if you are not already a member. Day one of the conference are meetings with various groups within the TTSAO such as the Carrier Group, Insurance Group, and general meeting ending with a cocktail party on the first night, a great networking opportunity for all. It's the second day that really offers the bang for the buck.
On day two is when you can get that information you're after to make changes to your own facility. Topics covered will include social media marketing, conversation with regulatory bodies, hiring practices, instructor of the year presentations, and awareness in human trafficking in our industry. Many of those areas touch training facility issues and the experts at the event can help you redesign your business.
When is the conference? The TTSAO Conference is being held on July 26th-27th 2022 at Lionhead Golf and Country Club in Brampton Ontario. There are a number of attendance and sponsorship opportunities available. You can learn more about the conference at www.ttsao.com
About the Author
Bruce Outridge is a veteran in the transportation industry with over 40 years in the industry in a variety of roles from driver to fleet supervisor and more. Today he is a media specialist in the industry producing a number of programs for the trucking industry such as his trucking podcast The Lead Pedal Podcast for Truck Drivers at www.theleadpedalpodcast.com or his radio station Lead Pedal Radio at www.leadpedalradio.com
Disclaimer: This article is written and based on the opinion of the author and is for general information only