After years of postponing and even cancelling the annual TTSAO Conference due to the pandemic it finally got off the ground this past week to raving reviews. It has gone through so many changes and twists it was a leap of faith and a lot of hard work to get it on for July. It is now complete and the conference team will look to next year to start outlining the 7th annual conference which will return to it's original time of the end of February 2023.
This years conference featured a hockey theme and everyone was encouraged to wear their favourite team jersey to be entered into a draw for a $250 gift card. The conference was divided into two full days jam packed with information. Day one consisted of meetings with the various groups within the TTSAO such as the Carrier Group and Insurance Group led be Gerald Carroll and Lisa Arseneau. Glenn Caldwell of NAL Insurance talked about their Thank a Trucker campaign.
After a great lunch the afternoon sessions consisted of information around testing with Serco and the On-Site Testing Panel moderated by George Cierpich. Kim Richardson interviewed Mark Seymour of Kriska Transportation Group about the industry in general and what fleets are doing to hire new people in the trucking industry.
Day one wound up with a great cocktail party sponsored by Revolution Staffing with an interview segment by Dave MacDonald and Sarah J. Hilton as they discussed mentorship and how it is helpful to new drivers especially women.
Day two kicked off with a presentation on road safety with Safer Roads followed by a presentation on social media by Bruce Outridge. Marilyn Surber of Tenstreet was interviewed by Samantha Clarke about how carriers are using technology to attract young drivers and is in-fact driving the industry in many areas, not just recruiting.
Testing practices for upgrading new people was the focus of the panel discussion led by Matt Richardson on what carriers are doing to upgrade current staff on site. This panel was followed by an entertaining discussion about the state of the industry by Mike McCarron and Manan Gupta of Newcom and what needs to be done to improve our industry.
The best part of the day was the award ceremonies that were very emotional and well deserved. Caroline Blais of Kriska Transportation won the Industry Award by the TTSAO for all her hard work within the industry. Mike Millian President of the Private Motor Truck Council was awarded the President Award for his work and sharing of expertise within the industry. Doug Groves of Zavcor Training Academy became the third recipient of Instructor of the Year Award. Doug joins past winners Joe Texeira and Doug DeGrow with this prestigious award. A surprise award was awarded at the end to a very emotional Kim Richardson who was awarded the Lifetime Achievement Award. The award was presented by Kim's family and it brought him to tears accepting this well-deserved award. Congratulations to all the award winners.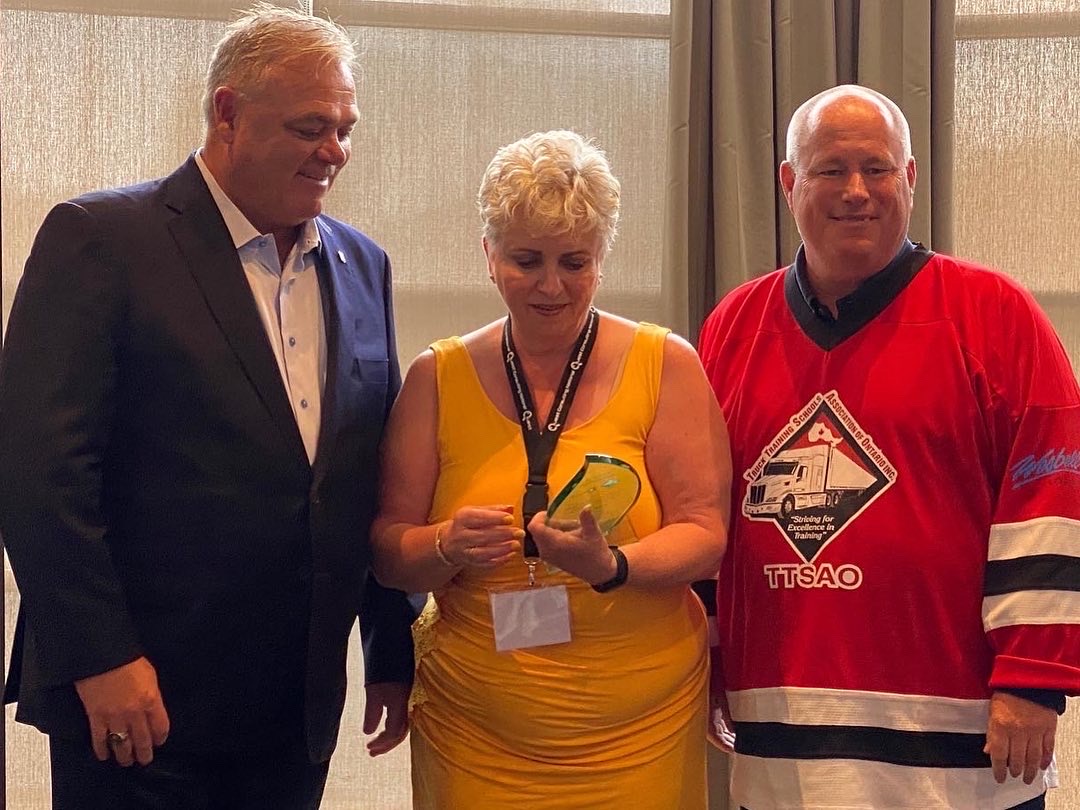 Day two ended with raffle draws and silent auction winners along with presentations from Truckers Against Trafficking with Matt Fuller and a Yard Risk Analysis presentation from Charlie Charalambous. Incoming President Phil Fletcher closed out the conference for 2022 and vowed to keep the TTSAO on track for the future. A big thank you and congratulations to the conference committee and TTSAO team for their hard work in creating a successful conference for 2022. See you next year!
About the Author
Bruce Outridge is a veteran in the transportation industry with over 40 years in the industry in a variety of roles from driver to fleet supervisor and more. Today he is a media specialist in the industry producing a number of programs for the trucking industry such as his trucking podcast The Lead Pedal Podcast for Truck Drivers at www.theleadpedalpodcast.com or his radio station Lead Pedal Radio at www.leadpedalradio.com
Disclaimer: This article is written and based on the opinion of the author and is for general information only