Awards were given out at the recent TTSAO Conference and one of those was a special award for Kim Richardson. The award was kept a secret from Kim and his wife Lisa drove into present the award to him. His son Matt presented the award and the whole stage was crying by the end.
Richardson was a founding member of the TTSAO along with Gus Rahim of Ontario Truck Driving School. The two wanted an Association that would hold the training industry accountable for the training provided to clients. Over the years Richardson has held various positions within the organization with the most recent being President of the Association. He will now be the Past President.
Richardson has been instrumental in helping the Association improve its impact on the training industry but is now also the organization helping governing bodies set the training standards for the future.
Congratulations Kim Richardson for a job well done.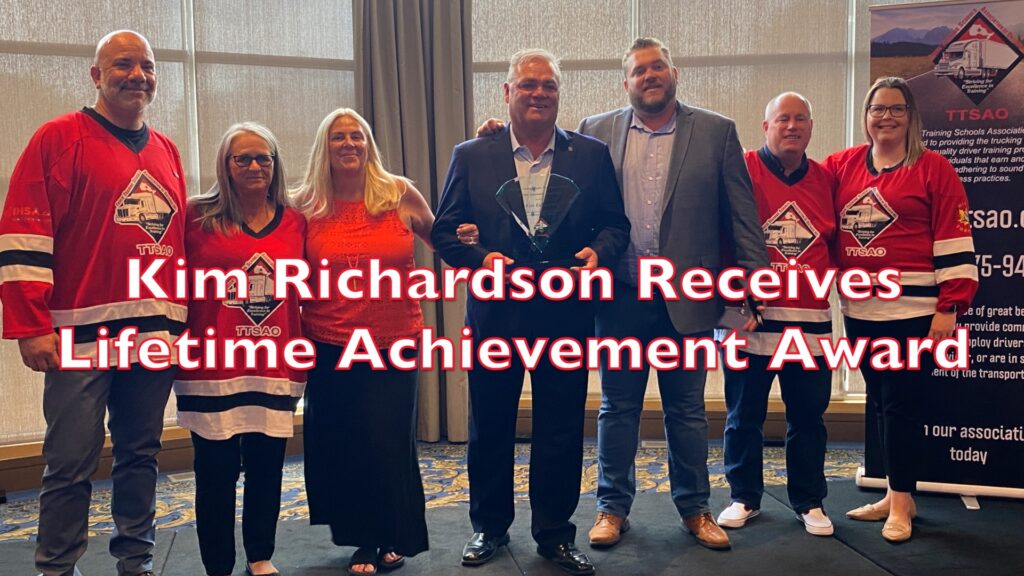 About the Author
Bruce Outridge is a veteran in the transportation industry with over 40 years in the industry in a variety of roles from driver to fleet supervisor and more. Today he is a media specialist in the industry producing a number of programs for the trucking industry such as his trucking podcast The Lead Pedal Podcast for Truck Drivers at www.theleadpedalpodcast.com or his radio station Lead Pedal Radio at www.leadpedalradio.com
Disclaimer: This article is written and based on the opinion of the author and is for general information only